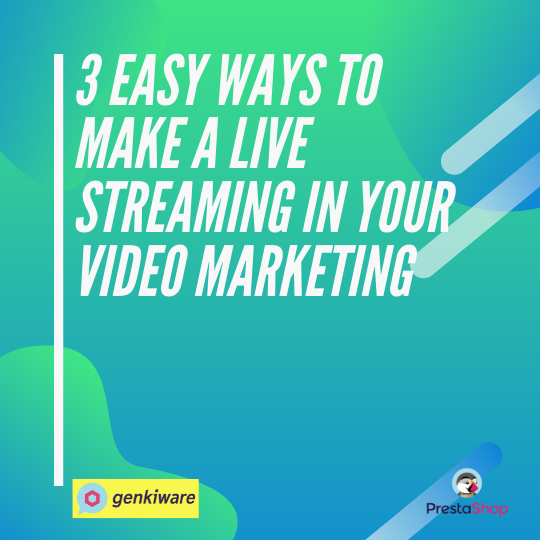 3 easy ways to make a live streaming in your video marketing
One of our clients, they got a significant sale growth in past months during the pandemic peak. The live streaming is their ace in the hole to acquire this kind of incredible performance. Therefore, in 21 century, live streaming should be one of the most effective mediums for marketing because it is seen as more authentic and human to interact with your clients. 
Here are 3 steps to make a effective live stream
Identify the right channels of your live streaming
Let's see how many choices we have nowadays. 
Facebook Live, Youtube, Instagram, TikTok, LinkedIn, Vimeo
According to a solid experience on digital marketer, he said he has tested two platforms, Facebook and Youtube. I think these two platforms have the biggest share in this area. He found out that the FB live can easily re-engage your audience. Your audience will receive a live streaming notice in their page. It is good for retailing and services. By the way, the mentioned company above was using FB live. 
As for the Youtube live, it has a high engagement rate and your subscriber will get live stream notice as well if they have pressed the alarm button. Another advantage of Youtube live, your video will appear in Google search and be good for your SEO. 
Prepare a good and interesting content
It is better to create a rough idea about your live streaming content. So, draft a script and agenda, it helps to avoid distracting your objective. In order to keep your viewer engaged until the end. You can also prepare some features like polls, rewarding, or Q&A. My client told me that they will offer some live questions to their audiences. If anyone can answer, they will provide a coupon code or gift to them.
Always remember that you are selling a feeling. Hard selling will not go as far as emotionally driven content. Live stream is an excellent means of catching sensation. It's more important to create the relationship between your brand and audience than to push a product.
Release a teaser about your live stream
To maximize the likelihood that your live stream will reach much of your audience, remember to use your social media platforms to promote the stream. You can post a live stream preview 1 month in advance to make followers more conscious, and give them more time on their feed to post the stream. Start counting down 1 week before the actual live stream, then 3 and 1 day before.
---
Related Post
---